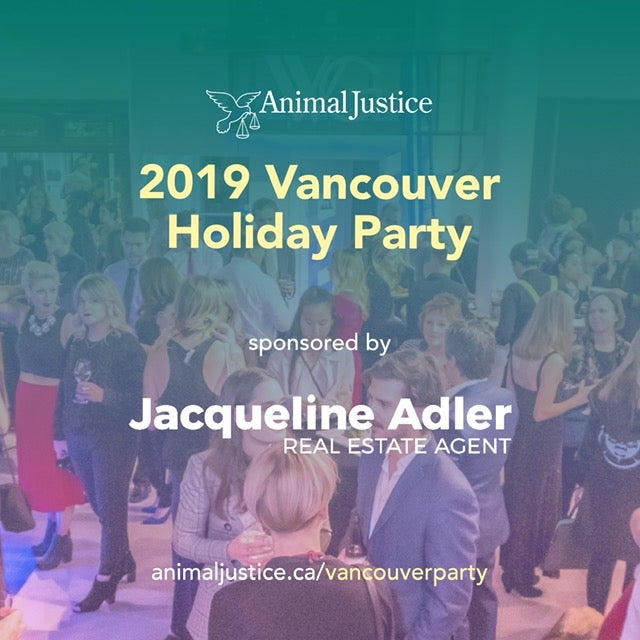 I am pleased to sponsor the Animal Justice 2019 Vancouver Holiday Party to be held on Friday, November 29th. For me, it is more than a recognition of the important work they do, it is personal. 
Last Friday I had the honour of speaking at UBC's Allard School of Law to students who have enrolled in the Animal Law course. I was invited to tell them about how my mother inspired me and my son to establish the Sharon Koshul Memorial Prize in Animal Law and to support groups such as Animal Justice.
My mother passed away unexpectedly almost two years ago.  Those closest to me know that she is a driving force in my life still, and I think about her every day.  My mom cared for animals her entire life through. She would do anything she could to help an animal in need, even though in many ways she didn't have the means to make it easy for her to do so. She was devastated by the cruelty that is allowed to be inflicted on animals, especially during the time she lived on a farm and was exposed to the suffering of farm animals. She saw no difference between a chicken or a dog or a cow or a cat or a pig – she knew by spending time with farm-raised animals and those we share our homes with, that they all can feel pain and joy and fear and comfort – they are sentient beings that deserve our protection from cruelty.
My mom saw the advancement of Animal Law as ultimately the most effective way to advocate for and protect animals. She learned to her deep regret, that expecting people to do the right thing by animals in their care, too often falls way too short. 
Animals have no legal standing.  They are private property. An animal today in Canada has no more power over their very existence than a chair. Without dedicated lawyers focused on the absolute requirement to convince the courts to create animal rights, the status quo will continue.  
It is my hope that in some small way through support of groups such as Animal Justice and the prize in my mother's name, we can encourage those doing the hard and necessary work to improve the lives of all animals. - Jacqueline